How to apply:
After a shower, apply 1-3 drops of oil into the palm of dry, clean hands. Starting at the tips of your hair, gently massage the natural hair oil into your locks. For dry scalp conditions, apply the oil treatment to your hair the night before washing by gently massaging it into hair and scalp. In the morning, wash and shampoo your hair as you normally would.
For frizzy, dry, brittle and staticky hair, this oil is an excellent treatment.  This product has been tested in the frigid northern winters of the NWT in -40C!  Pairs perfectly with our Crowberry + Rosehip Face Serum, which is also solely made with organic and wildcrafted ingredients.
Some key benefits of
our Organic Boreal Hair Oil:
Wild Nettle (Urtica dioica) – Reputed to be excellent for combating damaged dry hair, promoting hair growth, and aids in restoring natural colour and luster. Everything about nettle is delicious and nourishing. Harvested with care the wild nettle we forage is rich dark green, fragrant and grows wild far from pollutants or agriculture. Each spring while young and fresh, it is carefully collected then shade dried for optimal nutrient content. Wild nettle is naturally high in vitamins and minerals, several of which benefit hair health, such as silica and sulfur. These two ingredients are said to make the hair healthier and shinier. Have dandruff? Try massaging this hair oil into scalp before bed time and rinse in the morning.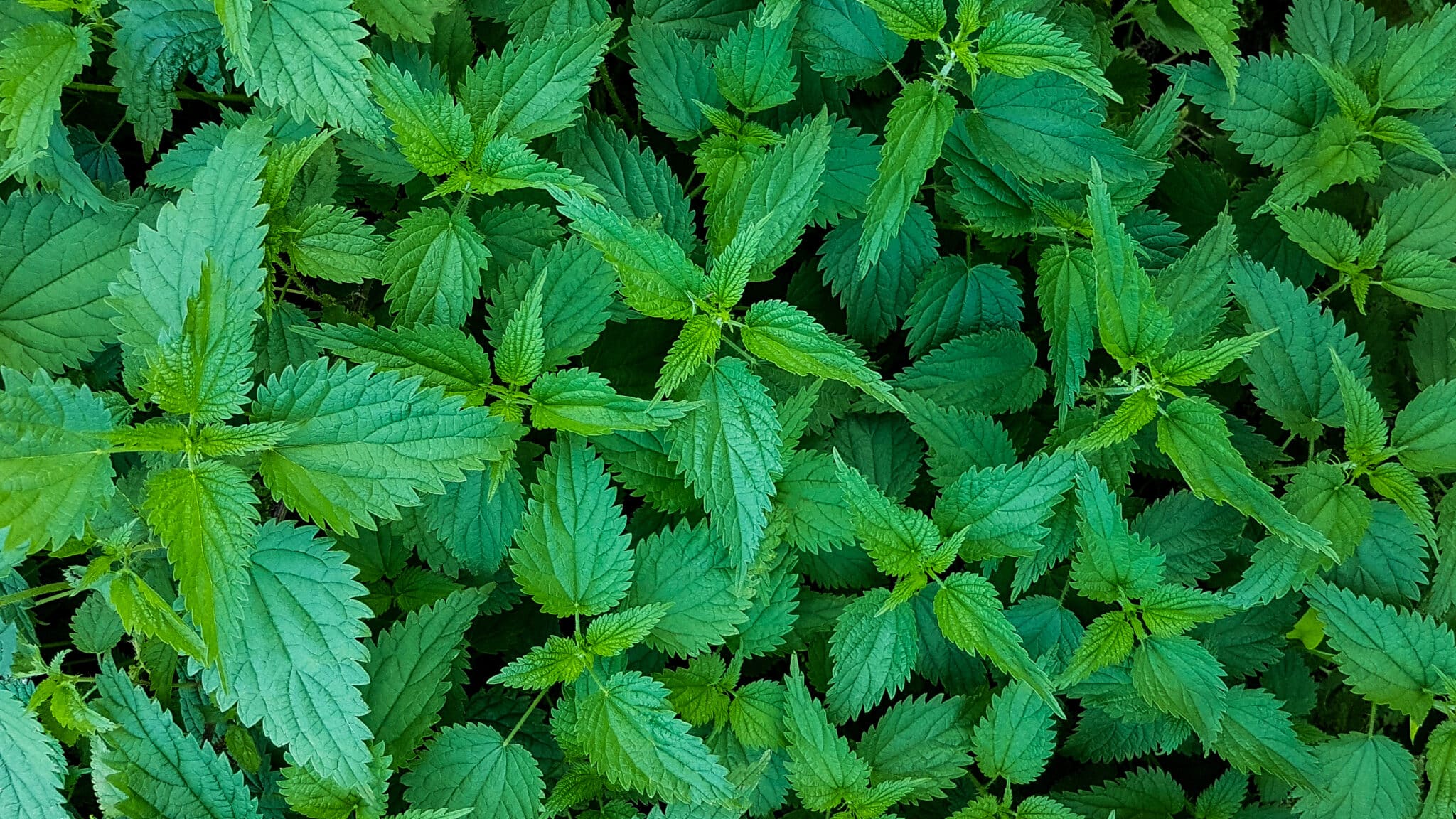 Wild Horsetail (Equistum arvense) – Not only is horsetail a natural source of silica (a crucial mineral for healthy hair skin and nails), it is reputed to strengthen hair. Collected each summer under the midnight sun along the banks of shaded forests bordering lakes.
Wild Canadian Mint (Mentha canadensis) – Wild mint has a cooling effect when applied to the scalp which is invigorating! Mint improves circulation allowing hair to receive more nutrients, thus growing faster. Mint essential oil is reputed to alleviate, stress, tension and anxiety and to aid in sleep. It is also known as a natural pain reliever which is why mint products can often be purchased as a natural alternative for treating headaches.
Wild Yarrow (Achillea millefolium) – Yarrow is reputed to be effective in combating dry itchy skin and dandruff. It is cited as an excellent herb for treating hair loss. This wild herb has been used for centuries in traditional medicine. Steam distilled yarrow essential oil contains natural astringent properties reputed to tighten pores on the scalp that contain hair follicles – assisting in the prevention of hair loss. Yarrow with its astringent properties also acts in combating oil build up.
Organic Argan Oil / Morrocan oil (Argania spinosa kernal oil) – Organic, cold-pressed and unrefined, vegan, fair-trade and Kosher certified. Grown in North Africa and mainly in Morocco, the Argan tree grows in wild in semi-desert soil, and is extremely well adapted to drought.  Argan oil is considered to be one of the rarest oils in the world due to the small and very specific areas in which it is grown. The production of this oil has allowed for this species to be more protected in turn creating food and shelter for wildlife while its deep roots protect from desert encroachment.
Argan oil has been used in traditional medicine for centuries. The oil is rich in omega 6 fatty acids fatty acids, and antioxidants giving it moisture restoring properties for skin and hair. It is believed to contain saponins and twice as much vitamin E as Olive Oil.
Organic Jojoba (Simmondsia chinensis) Organic, cold-pressed and unrefined, vegan, fair-trade and Kosher certified. Although it looks like oil, Jojoba is actually a liquid wax and one that closely mimics the natural sebum that our skin produces and is rich in Vitamin E. It originated in the southern US but is now cultivated in many countries around the world.
Wild Tamarack (Larix laricina) – wildcrafted steam distilled Tamarack essential oil and wild fresh plant parts are infused into the Boreal Hair Oil. A natives tree of the Northwest Territories, tamarack is the only conifer tree species with needles that sheds them each fall, and grows new ones each spring. It has a lovely conifer fragrance with naturally occurring antibacterial properties.